An Epic Journey: 20 Days on the Trail to EBC
April 21-May 12, 2017
Nepal is Bucket List material. I've been dreaming about trekking amidst 8000+ meter peaks for over 20 years. Ruben has, too. And with the luxury of time on our side, why wouldn't we venture to Everest Base Camp, THE Bucket List king? You can book a 12-14 day tour to EBC from the comfort of your home, no matter where you live - guides to direct you (although you can't get lost, just follow the donkey poop and yak trains), porters to carry your gear (20+ pounds of gear on your back can get tiresome, but what's the fun in not carrying your own crap??) - all for a pretty penny. Or you can land in Kathmandu and figure it out. And figure it out we did, for a 3 week trek that dreams are made of.
Let me set the record straight. Neither Ruben nor I have ever had an inclination to summit Mt. Everest. At 8848M - nearly 5 1/2 miles in the air - the trek is grueling, expensive (joining an expedition can cost upwards of $70K per person), time consuming (a month or more to acclimatize and wait for a perfect weather window), and often deadly. Reaching Everest Base Camp, the first and lowest of the 5 camps used by trekkers to acclimatize before attempting the final push to the summit, is a feat and destination unto itself.
We arrived in Kathmandu on a Tuesday and hoped to hit the trail on Thursday or Friday at the latest. We had a busy few days ahead: hire a guide or decide to hike on our own; rent/buy any gear that wasn't already in our packs; get our permits; accumulate enough cash to pay for food and lodging on the trail; finalize all plans for our return to Kathmandu and beyond, since wifi would be scarce.
First up, we needed to decide on the actual trek we wanted to do. While most trekkers opt to fly to Lukla and hike from there, we decided to follow in the footsteps of Sir Edmund Hillary and Tenzing Norgay. We would take the bus to Jiri - where the road literally ends - and start walking. It would add 6 days of strenuous walking, gaining and losing 1500+ meters of altitude on back to back days, but would also give us a chance to acclimatize to the altitude a little more gradually. And instead of heading straight back to Lukla after reaching Base Camp, we wanted to loop around to Gokyo Lake. So how to accomplish this? We met with the manager of our hotel (Hotel Mum's Home in Thamel) and he provided a 20-day itinerary at a cost of $1350/person including a guide (beverages, rental gear and personal items not included). We were still on the fence if we wanted a guide plus we thought we could pull it off a little cheaper. Next, we went to Shona's - a highly recommended trekking gear shop. We chatted with the owner, bought the items we needed, arranged for pickup of the items we wanted to rent (2 sleeping bags and one down puffy at a total cost of $2.55/day). During this process, we silently agreed to channel our inner Nike ad and just go for it. No organized tour. No Guide. No Porter.
Next stop: Nepal Tourism Board (Pradarshani Marg, Kathmandu 44617, Nepal) for our TIMS cards and trekking permits. Starting the trek in Jiri requires a second permit, as we'd cross a second zone, but other than the added expense, a fairly painless process of paperwork. Make sure to bring multiple passport-sized photos with you for each of the different permits! And finally, we made a trip to the bus station to purchase our bus tickets. It was worth navigating the maze of buses and people the day prior so that it was easier to find our bus the next morning.
By Thursday afternoon, we were stocked with cash, snacks, toiletries; our packs were pared down to 10-12KG each and packed. (Most hotels will let you store any items that you don't want to carry on your back. We left 2 bags behind for 3 weeks with no issue!) All that was left to do was get a good night's sleep and get ready to begin the journey.
I was anxious and antsy on Friday morning as we strapped on our packs and walked to the bus station. We milled around until finally someone pointed us to the van that would be our home for the next 9 hours. Our packs were thrown on the roof and covered with a tarp. We nestled into the row behind the driver and the remaining passengers crammed in with us. The bus ride lived up to all of our expectations: hot and cramped; bumpy, windy dirt roads; traffic jams; breast feeding mother and puking baby; car-sick teenager; a stop for lunch at a roadside shack of questionable sanitation; a washed out road forcing us onto a one-way dirt alternative; and 9 exhausting hours later, finally arriving in a small town still reeling from the earthquake of 2015. We wandered through town, past kids playing ping pong on a make-shift cement table in the street and into the bakery selling piping hot rolls. We found a lodge at the far end of town and close to the trail head. After an early dinner we were ready to call it quits. Tomorrow was a big day.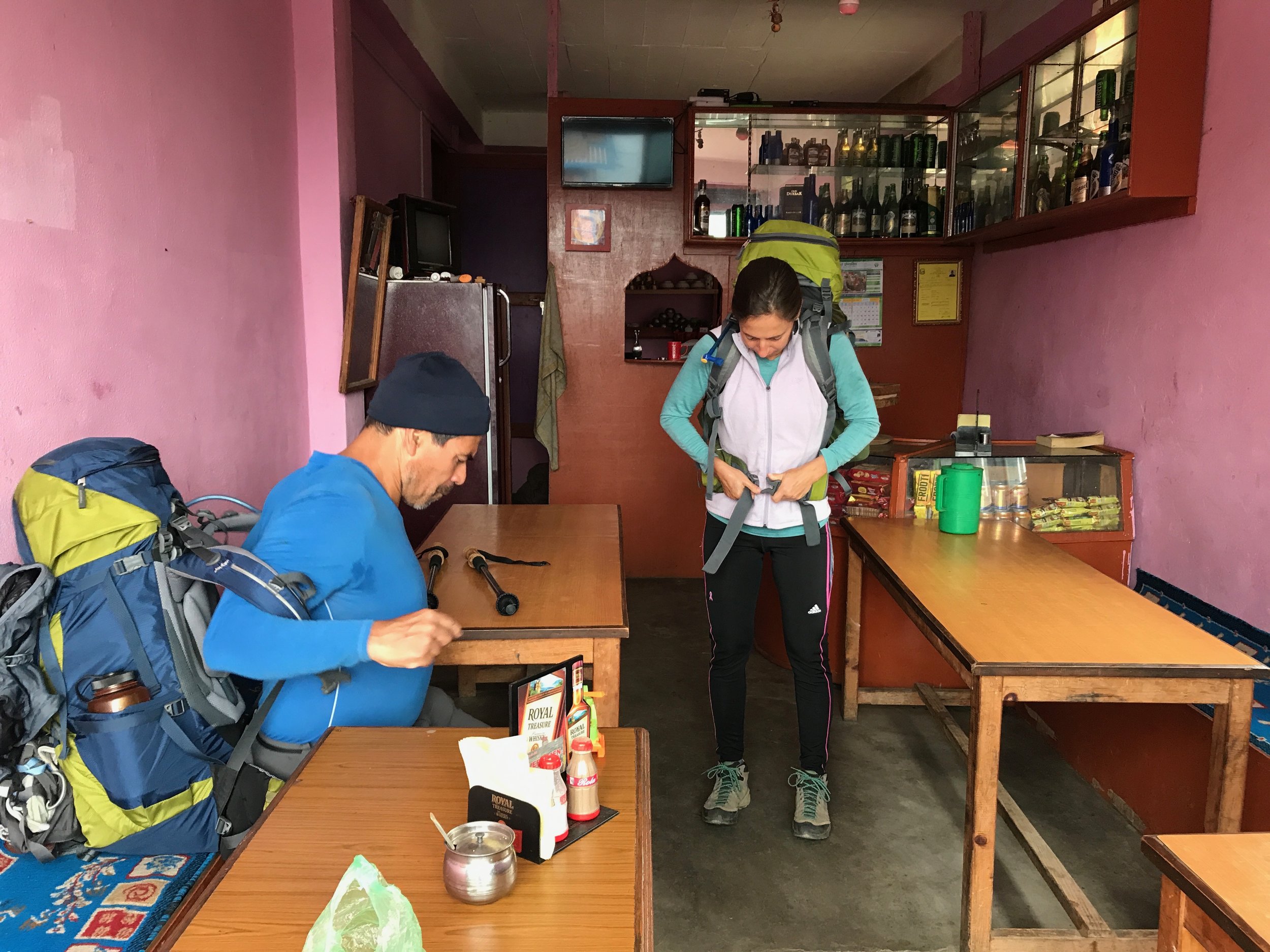 Saturday dawned overcast, but pleasant. After a hearty breakfast at the lodge, we strapped on our packs and walked out of town. We found the trail head and immediately started to climb. This would become a theme - right after breakfast and lunch, we always seemed to find ourselves ascending. Couldn't someone put a lodge at the top of the hill so we could descend on a full stomach?? Locals were coming down the trail at full speed, as we were jostling our packs, making tiny micro-adjustments to the straps, trying to get as comfortable as possible walking uphill with 10KG on our backs. Altitude wasn't a factor yet, so we were walking and talking and admiring the scenery, still unsure of what lay ahead. At every turn, the scenery was breathtaking. I wanted to photograph EVERYTHING, but prudence prevailed. We were on the trail less traveled, so we walked for hours without seeing another hiker. It was peaceful and zen. We crossed super high, bouncy suspension bridges. We passed prayer rocks and stupas and foundations that were all that remained of houses not yet rebuilt since the earthquake. We had run-ins with donkey trains, carrying goods and gear up the mountains. We leap-frogged with porters, who moved quickly up and down the trails with huge baskets loaded with cases of beer and toilet paper and trekkers' packs, but who also stopped frequently to rest.
As the days unfolded, we walked through pine and blooming rhododendron forests, past farms and small villages; back and forth across the striking aquamarine Dudh Kosi River. The peaks were in the distance, teasing us to come closer. And then suddenly we ascended high enough for the landscape to change over to more hostile environs. The lush greenery gave way to rocks and snow capped peaks. The trees were far below us. Tiny purple wildflowers were all that seemed to grow, clinging to life in infertile soil. The massive peaks looked close enough to touch, at once beautiful and deadly.
Our days settled into a rhythm: Wake up around 6am. Pull out the clothes that were tucked into the bottom of the sleeping bag (warm and dry!) and get dressed before venturing out. Pack sleeping bag into compression bag and re-pack pack. Breakfast in the dining room. Quick return to the room to brush teeth and final bag pack. Drop off key/pay for lodging and meals. Strap on the pack and start to walk, usually by 7:45am. Occasionally, we'd stop for tea at 10 or 10:30am. Stop in a village for lunch between 11:30-1:00. Lunch takes an hour. It just is what it is. When you order rice, they start cooking it. When you order vegetable curry, often they run outside and pick some greens from the garden and chop the vegetables right then. For fried potatoes, they first peel and boil the potatoes, then cook them with vegetables and fry an egg on top. Just relax and sip your tea while you wait. After lunch, we'd usually decide how much further we wanted to go and choose the village for the evening. We'd walk for a few hours, then we'd stroll into town and select a lodge. Some villages had as few as 3 to choose from, some a dozen or more; often we'd have a recommendation from the previous night's lodge owner or another trekker we met on the trail. There is very little variation in the lodges. There is a main dining room with the one heat source - wood fired at lower altitudes, yak dung fired higher up. There are un-insulated bedrooms along a hallway, with 2 twin beds, a table, occasionally hooks on the wall and usually one weak overhead lightbulb. Most lodges had a communal toilet inside - sometimes a real western toilet but often just a hole in the floor. At lower altitudes there might be a communal shower. At the front desk is a collection of log books. Each guest room has a designated page to keep track of your expenses during your stay. You can write in your own dinner and breakfast order and then the total is tallied before you leave in the morning. Upon arrival, we'd set up our beds: unroll our sleeping bags and our liners; then we'd order dinner, usually to be served around 6:30pm. We'd get out of our wet/dirty clothes, take a baby wipe "bath," tend to any blisters/put on KT tape and/or Icy Hot, maybe even give each other a foot rub. Ruben would stand by the fire in the dining area and dry each article of clothing. After dinner, we would sterilize enough water to refill our Camelbacks, play cards, shoot the shit with fellow trekkers, order our breakfast for the next morning and call it a night by 9pm. It was dark and cold and we were exhausted.
Most mornings dawned crisp and clear with bright sunshine. Clouds and "weather" often rolled in by mid-afternoon, but we only needed to put on our pack covers on 2 occasions, and it wasn't more than a light mist or snow. As we climbed higher, it got progressively colder. We started to sleep fully clothed in our 4-season sleeping bags: long johns and sweat pants on the bottom, 3 layers + a down puffy on top and a hat. Anyone who tells you it isn't cold is lying to you. It's freaking cold.
On Day 3, we came around a bend in the trail and I said "Wow. Look left." The vista was absolutely stunning. "Holy shit!" Ruben exclaimed. A soft voice with a German accent piped in - from a fellow trekker we hadn't noticed resting on the trail "Yees, holy sheet!" Lots of laughter ensued. Later that day, we arrived in the village of Junbesi, just in time for the yearly Dumji festival at the monastery. After an early dinner at the lodge, we joined the entire village to watch the monks dance in costume.
On Day 6, we joined the main trail from Lukla. After having the trail and the lodges mostly to ourselves, we suddenly were passing large groups of trekkers with guides and porters, walking both up and down the trail. There were more donkey trains - and thus, more poop! - and now yak trains joined the fray. On Day 7, we arrived at the booming metropolis of Namche Bazaar. Up to this point, we had been passing through and staying in tiny villages. I looked at Ruben and said "Welcome to New York City!" A fellow trekker glanced over, still huffing from the last incline, and said "Nah, I like New York better. There are taxis." There are bakeries and pizzerias and bars showing movies in the afternoon. You can buy micro spikes for glacier crossings and Pringles and technical gear. Most importantly, there are hot showers.
We were now at 3440M/11,286 feet. Acclimatization becomes critical at this point to avoid altitude sickness. It is recommended to only advance 500M each day, so distances hiked get shorter, but the terrain is more challenging. The air is thin and cold, and it is hard to avoid contracting the "Khumbu Cough" from breathing the ice cold air. Ruben was already suffering from it, so we made a quick visit to the Medical Clinic to be certain the cough wasn't in his lungs. He got the all clear to continue. I started coughing several days later and finally kicked it after a week back in the US. We did our first acclimatization hike: the goal is to hike high, breath the thinner air for awhile, then sleep low, so we hiked out of Namche Bazaar to the the villages of Khumjung and Kunde - to a maximum altitude of 4000M - before returning back to Namche Bazaar for the night. There is a monastery in Khumjung that has a yeti scalp that reportedly was carried back to the village by Sir Edmund Hillary. For $2.50, someone at the monastery will remove the "scalp" from the vault and let you admire it for a minute. Is it a yeti scalp or a coconut??
4000M is the tipping point for most people. It is above this altitude that symptoms of altitude sickness - HAPE or HACE - can start to rear their ugly head: nausea, headaches, loss of appetite, diffiuctly breathing while at rest. We met trekkers at all points on the trail that were ill and needed to turn back towards Lukla before reaching their goal of Everest Base Camp. We decided to take prescription Diamox (also available in Nepal without a prescription) as we left Namche Bazaar and headed towards the village of Tengboche. Side effects include tingling of hands and feet and Ruben even felt tingling in his chest. But, we never had headaches, never lost our appetites and most importantly, never had to slow down or turn back.
Tengboche is the home of the highest active monastery in the world and where all trekkers looking to summit Everest stop for a blessing from the monks. Even though we had our sites much lower - just getting to Base Camp - we still visited the monastery during the afternoon prayer session. We would take all of the blessings we could get!
Tengboche, Dingboche, Lobuche - the trail climbs higher and higher. Breathing gets more difficult. The pace slows. The views get more and more stunning. The mountains almost look fake, like someone dropped a Hollywood backdrop into my line of site. We arrived at Lobuche late morning on Day 12. Most people stop there for the night, but the final village before EBC is just 200M higher, 2.8 miles up the trail. We decided to continue on to Gorak Shep. We had one final steep hill - up and over the Lobuche Pass. We stopped at a porter ledge - a stone wall that the porters use to rest their heavy loads - to work up the energy and then pushed upwards. It was brutal at 5000+M. Finally up and over the pass, the trail continued to snake through the mountains. We were under 1/2 mile from Gorak Shep, according to Maps.me on my iPhone and yet there was still no village in sight. We were starting to get discouraged. Maybe we should have stopped in Lobuche and this was folly to continue on. I was in the lead on the trail and suddenly I let out the loudest "WOOHOO!" as I came around a bend. At long last, the small, grungy village was below. Gorak Shep has very little to recommend it: prices are high (our room was $5/night; water was $3.50/L; Dahl Bat was $8); it is cold and inhospitable; the lodge locked the indoor toilet during the day, so there was only a super stinky outhouse. But, it is the gateway to Everest. It is the last stop before the final push to our destination.
DAY 13: Awesomeness. One small detail: you can't really see Mt. Everest from Everest Base Camp, but you can see it from Kala Patthar, a nearby peak that looks like nothing more that a giant pile of rocks. We woke at 4:15am for an early morning ascent to watch the sun rise behind Mt. Everest and the neighboring peak of Lhotse. The climb from our lodge was about 1.25 miles, starting in Gorak Shep at 5100M and climbing to 5545M at the peak. It had snowed a few inches overnight, covering the trail with a fresh layer. I am a marathon runner. I have run a lot of miles at the end of races that I thought "Wow, this seems to be taking forever. This hurts." The mile to the peak of Kala Patthar was THE longest mile of my life but worth every painful step. The sun glistening on the snow capped peaks was beautiful and peaceful and serene. And this was only Part 1 of the Epic day. We made it back to the lodge for a hot breakfast, relaxed for a bit and then set out on our next adventure: Everest Base Camp. By noon, the bright sunshine gave way to clouds and flurries as we trekked the rolling 2+ miles to Base Camp. After summiting 5545M, the walk to EBC (5380M) feels like just that - a walk. The trail was crowded, as this is the piece de resistance for most trekkers. As you approach, you can start to see the tents: small clusters of brightly colored tents forming a village of expeditions, each with its own dining tent, bathroom tent, cooking tent. To the left of EBC is the famed Khumbu Ice Fall, with deep, deadly crevasses crossed on ladders. The ice and snow looked like giant swirls of white frosting, belying the danger lying below. By the time we crossed to the entrance of EBC, marked by a recognizable pile of prayer flags, the snow had picked up, so we took our photo to mark the occasion and made a quick exit back to Gorak Shep.
Mission accomplished! Most people would high-tail it back to Lukla after the successful day we had, which can be done in 2-3 long days of descending. But we weren't done. We decided to loop the long way, over the Chola Pass (5420M) to the town of Gokyo and home of the pristine alpine Gokyo Lake, and then over the Renjo La Pass (5400M), before returning to Namche Bazaar and on to Lukla for the flight back to Kathmandu. This meant two additional challenging ascents. Chola Pass was the first: the trail is poorly marked; there is a glacier to cross, which is even trickier if fresh snow has fallen (thankfully, we had a clear, sunny day); the final ascent is a mountain of boulders; and the descent is even harder, covered in icy, steep boulders. It was the most mentally challenging day on the trail, having to watch every foot placement on the descent. After Chola, we descended down to the village of Dragnag, followed by a second glacier crossing to get to Gokyo. As we approached, we realized that this wasn't a typical glacier. Instead, it looked like a giant rock pile. Yes, there was dirty ice deep below the surface, but global warming had changed the topography dramatically. Once across, we found ourselves in the middle of a rock slide. Ruben yelled "Come Here!" to get me to duck behind a boulder, but I froze, mesmerized by the rocks sliding down the hillside towards us. In the nick of time, my brain clicked into gear and I dove next to him. Once over the last ridge line, the vibrant blue Gokyo lake laid below, sparkling in the sun. It was crystal clear and looked ICE cold with snow capped mountains in all directions. The next morning was our final ascent. We circled the lake and then climbed to the top of Renjo La Pass. We took a last look across the lake and back to the tiny village below before descending down the back side of the pass. More mountains greeted us in this direction, but our travels were taking us down, down, down. We cruised down to Lumden for lunch and continued on to Thame by late afternoon. We walked a half marathon that day, but the air was rich with oxygen as we descended from a high of 5400M all the way down to 3750M. There was a spring in our step and we were almost jogging down the trail.
The next day was an easy walk back to Namche, where we took our first showers in 9 days, had our first beer in 3 weeks with popcorn and watched a movie. The weather was overcast and it was a perfect afternoon to lounge and tell stories of our travels. We encouraged 2 young kids about to set out to buy warmer clothes and we gave them our last 5 Snickers bars that we no longer needed. The next day was Buddha's birthday and the owner of the lodge (Alpine Lodge) invited us to join him at the monastery. We made an offering to the llamas and were blessed; sat and drank milk tea and listened to the music of the monks.
The walk back to Lukla is long, but easy. We took our prayer shawls with us, stopped at the high suspension bridge, said our prayers and tied them to the bridge with the hundreds of shawls already knotted to the hand rails. Our flight back to Kathmandu was scheduled for 10am on Friday morning. We skipped Lukla on the route in, so this was our first view of the airport. The runway is shorter than it should be. The flight path is down the teeny angled runway, which drops from view hopefully after the plane has gained altitude, and then cuts through 2 mountain ranges. Ruben took one look at the runway and panicked. It didn't help that we arrived for our 10am flight at 8am and proceeded to stand in line with no information for hours. Finally at noon, they started checking people in. I was jostled in line by large groups with guides, but stood my ground and stuck our paperwork into the attendant's hands. He started to hand it back and said "you will need to wait." Oh, no. We were done waiting. We were getting on this flight. I stood my ground and refused to abandon my spot in line until I had 2 boarding passes in hand. We proceeded through security to a holding pen with no more information than we had been given while standing in line for hours. But at least there were chairs! Finally, 3 planes landed and unloaded. After a short wait, we saw our bags get thrown into the bowels of one of the tiny planes and we were called to board. The take off was slightly terrifying, but equally beautiful. The plane left the runway with a few feet to spare and we were en route to Kathmandu. Our amazing journey had come to an end.
Daily Itinerary:
Day 1: Bus from Kathmandu to Jiri (1950M). 119 miles: 9 hours. Yes, you can almost walk that fast...
Note: Go to Ratna Park bus station in Kathmandu the day before you want to leave and buy your ticket. We were given the option of 6am "Big bus" or 7:30 Micro bus (aka mini van). Take the micro: There will be less chance of hitting your head on the ceiling of the bus as the driver navigates the hairpin turns and rutted dirt roads. There may also be a little less puking.
Day 2: Jiri (1950M) to Deurali (2700M) - climb to 2400M, descend to 1770M, climb to 2700M. 9.2 Miles.
Day 3: Deurali (2700M) to Dakchu (2985M) - descend to 1640, then climb to 2985M. 10 Miles. TOUGH day.
Day 4: Dakchu (2985M) to Junbesi (2700M) - ascend the Lamjura Pass (3600M), then work down to 2700M. 7.1 Miles.
Day 5: Junbesi (2700M) to Jubing (1680M) - ascend the Taksinda Pass (3000M), descend a knee and soul crushing 1500M, before a final ascent to 1680M. 13 Miles.
Day 6: Jubing (1680M) to Paiya (2780M) - ascend to 2885M, then a short descent to 2780M. Surprisingly "easy" day. 7.7 Miles.
Day 7: Paiya (2780M) to Monjo (2850M) - roller coaster down to 2200M, then back up to 2850M. 12.7 Miles. Halfway through this day, we joined the main trail from Lukla. We went from backroads to I-95 in an instant.
Day 8: Monjo (2850M) to Namche Bazaar (3440) - Short day! 3.3 Miles.
Day 9: Acclimatization hike: From Namche to Khumjung and Kunde. Visit the Khumjung Monastery and view the "yeti scalp" discovered by Sir Edmund Hillary. Max altitude: 4000M.
Day 10: Namche Bazaar (3440M) to Tengboche (3860M). 5.7 Miles. Altitude becomes the limiting factor - the prudent wisdom is to climb only 500M per day. Visit the highest active monastery in the world.
Day 11: Tengboche (3860M) to DIngboche (4350M) - 6.2 Miles. Second day in a row that we arrived before noon and had more spring in our step, but altitude said "STOP!"
Day 12: Acclimatization hike: the hill behind Dingboche. Reached 5080M, relaxed and breathed the thin cold air until we got chilly and headed back down to the village.
Day 13: Dingboche (4350M) to Gorak Shep (5164M) - most trekkers stop at Lobuche (4910), 2.8 miles south of Lobuche. We were rested and felt well acclimatized, so we ascended the extra 250M. 7.5 Miles.
Day 14: Kala Patthar and Everest Base Camp!! Pre-dawn ascent of Kala Patthar (5545M, the highest point on the trek), return to the lodge for breakfast, and then an afternoon walk to EBC (5380M) and back. AMAZING DAY. 8.1 Miles.
Day 15: Gorak Shep (5164M) to Dzhongla (4830M). 6.7 Miles.
Day 16: Dzhongla (4830M) to Dragnag (4700M) - across a glacier, up over the Chola Pass (5420M) and a brutal down hill on icy rocks. 4.9 Miles. We had planned to hike all of the way to Gokyo, but snow moved in and the downhill had taken its toll. Instead: a hot meal and a relaxing afternoon.
Day 17: Dragnag (4700M) to Gokyo (4800) - across a giant rock field, dodging a rock slide and then arriving to see the most pristine glacial lake. 2.4 Miles.
Day 18: Gokyo (4800M) to Thame (3750M) - up over the Renjo La Pass (5400M) for our final ascent and then DOWN to Thame. 13.1 Miles.
Day 19: Thame (3750M) to Namche Bazaar (3440M) - a HOT shower awaits! 5.5 Miles.
Day 20: Chillin' in Namche.
Day 21: Namche Bazaar (3440M) to Lukla (2860M) - down to 2610M and then the final 250M ascent into Lukla. 11.2 Miles.
Day 22: Lukla to Kathmandu - an interminable wait at the airport for our 10am flight (which finally departed at 1pm) off the shortest runway you've ever seen, with a flight path between two mountain ranges. Landed safely in Kathmandu :-).
Cost of Trek:
Lodging: $138.09 (including a splurge for all 4 nights in Namche Bazaar in a room with en suite hot shower and unlimited electricity for $25/night; otherwise, nightly room rates ranged from free to $6 per double room.)
Food: $1024.22 for 3 meals/day + snacks/bakery visits/coffee/tea and finally beer once we were back in Namche. We did not have any ill-effects from altitude, so we had healthy appetites throughout. We used a a Steripen to sterilize water, so never needed to buy water. Meals ranged from a low of $6-$8 for 2 in the lower altitudes, to a high of $18-$20 for 2 at higher elevations. Tea and coffee were $1-$1.50/cup down low; as high as $3.50 in Gorak Shep.
Permits: $143.50 (TIMS cards + permits for the 2 regions we crossed)
Transportation: $327.65 (bus to Jiri/flight from Lukla to Kathmandu)
Toiletries: $33.53
Trekking Gear: $292.60 (sleeping bag and down puffy rental; map; assorted clothing; micro-spikes)
Donations: $29.15 (visit to Namche Bazaar monastery for Buddha's birthday; trail maintenance)
Showers: $7.76 (We paid for just one hot bucket shower and one running water hot shower. There comes a point that it is too cold to bare all to take a shower, no matter how hot the available water. We went 9 days between showers.)
Phone charging: $1.00 (We only needed to pay for charging once. Cost ranges from $1 at lower altitudes to $5 for a full charge in Gorak Shep.)
TOTAL: $1997.50/$95.12 per day/$47.56 per person per day.
Items you need to pack:
Toilet Paper: Yes, put a roll in your pack. It is not provided and costs $3.50/roll at higher elevations.
Water purification: Steripen; iodine tablets; your choice.
Baby Wipes: Fake yourself into feeling clean between showers.
Hand sanitizer - just because
Body Glide - apply to feet and other areas susceptible to chafe to avoid blisters
Snacks - Snickers never tasted so good! They are cheap in Kathmandu...or $5 in Dingboche.
Cash - do the math and make as many runs to the ATM as you need to load up with NPR. There are ATM's in Namche, but they don't always work. There are also currency exchanges there, but the rate sucks. Trust me, load up on cash before you leave Kathmandu.
Diamox - We started taking it the day we hiked out of Namche Bazaar towards Tengboche. Ruben experienced tingling in his feet, hands and chest, but we didn't have headaches or nausea.
Maps.me - Download the app and then download the Nepal maps. All trails are listed. While it is not easy to get lost, it is indispensable for showing distance to the next village and elevation profiles.